Rashid Ali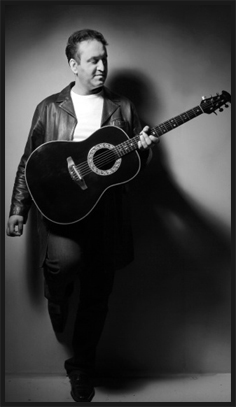 How does a UK singer and jazz guitarist such as Rashid Ali from Surbiton in Surrey end up getting signed to KM Musiq through India's most famous and renowned Music Director, A R Rahman?
Rashid met A R Rahman at a Charity concert in aid of the earthquake in Gujarat – they soon discovered that they both shared common ground in their association with Ustad Ghulam Mustafa Khan Sahib. Following that destined encounter, Rashid has regularly worked with A R Rahman, singing and playing live on tour in his concerts around the world as well as playing guitar on numerous film recordings.
It was just a matter of time before Rahman asked the session player to lend his voice to a track they were working on in the studio. Rashid sung on the studio recording of 'Kabhi Kabhi Aditi' from 'Jaane Tu Ya Jaane Na'. It became a massive hit in 2008.
As a result, Rashid received great acclaim including nominations for Filmfare, Star Screen, Stardust and Radio Mirchi awards. Not bad for a first Bollywood hit and from a singer who never had any vocal training.
Rashid credits his mother, Farida Ali, a once well-known Ghazal and Geet singer within the Asian community in the UK, for his exposure to Indian music.
He recalls listening to all the popular Bollywood songs from the likes of Mohammed Rafi, Kishore Kumar and Lata Mageshkar to Ghazal singers such as Ghulam Ali and Mehdi Hassan and Classical artiste, Ustad Ghulam Mustafa Khan sahib, who incidentally composed for Rashid's mother's second album.
Since then Rashid has lent his voice for several other Bollywood songs – including Call Me Dil for the film Jhootha Hi Sahi and Ishq Ada Hai for the film Ada - and has regularly performed live.
Rahman asked Rashid to become the first artist to sign to his K M MUSIQ label. Rahman has produced – but the songs are largely the work of Rashid and, another Rahman acolyte, Raqueeb Alam.
The Album entitled "CALL ME RASHID" will showcase Rashid's flawless guitar playing and distinctive voice. As well as his own compositions – there is an original arrangement of a folk song from Azerbaijan called 'Ayriliq' (meaning separation). Here Rashid is joined by Faria Choudhary from Dhaka, who sings in Turkish, whilst Rashid answers her call in Urdu. Also, the well-known and respected Indian Actress Tabu makes a guest appearance on one of the album songs, ' Parda Parda'.

The music is totally unique with a subtle eclectic mix of multiple genres derived from the spectrum of influences which Rashid has absorbed over the years, and yet, he has retained the organic acoustic elements of the sheer strength of emotion conveyed by one man through his voice and guitar.
CALL ME RASHID is available through Artist Aloud / Hungama from 28 November 2011.
For further info –
vijay@kmmusiq.com